Portrait: Deepak Sharma @ Bar 13 - May 15th
Tuesday, May 5th 2009, 05:49 PM
A deep passion for music, connecting with people, and a love for life are the focus for
Deepak Sharma
as he continues to grow as a DJ, producer and record label owner. The story of Deepak Sharma's rise can be traced back to 2001 when as a promoter; he was booking and playing alongside some of the world's most recognizable talent. In 2006, Deepak decided to start
Hidden Recordings
and since then it has provided a wide range of techno to hundreds of DJs and fans. The label's sound ranges from deep techno to atmospheric chill-out.
NAME
: Deepak Sharma
AFFILIATION
: Hidden Recordings
CITY/COUNTRY
: New York City/USA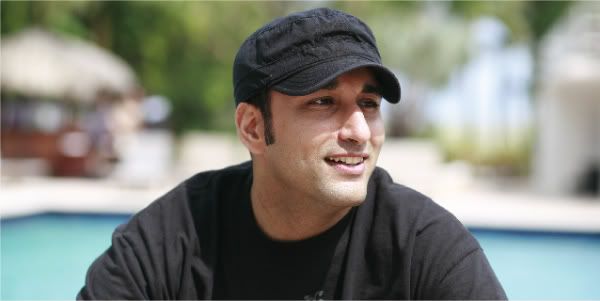 Favorite non-clubbing pastime in New York City
sitting, relaxing, walking, sunbathing, jogging in central park
Favorite NYC eateries
yama for sushi, diner in brooklyn for a date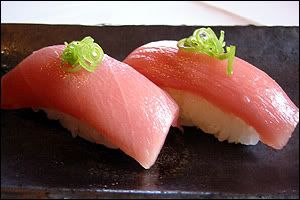 [Other than yourself] Your favorite DJ's
Butane, Luciano, Richie Hawtin and late night Danny Tenaglia
Most cherished record
1. Glory B 'Sunday Island' - Funk D'void Rework (2001 Minifunk Records)
2. Quarks 'Augen Zu Und Durch' - Rmx by Sascha Funke (2003 Home Records)
What's on your iPod playlist
various live sets of DJs I enjoy, unreleased and promo tracks and a few sets of mine.

Earliest musical memory
my first concert was faith no more and a band named helmet.

Most unusual item on your rider
its crazy, but now you have to request turntables so technics 1200! (makers mark is the drink of choice)
Worst DJ Booth moment
Any time some requests a song, it takes a little air out of the balloon. I remember one time someone was requesting a Rihanna song for his girlfriend as it was her birthday. He kept on asking even though I said no and and I noticed he was becoming more and more agitated as the night went on. Meanwhile, the girlfriend became super-bitch and literally had to be held back from throwing a drink at me. Finally, the club asked me to play it, which I wouldn't do so I asked if I could stop and they find another DJ. Every time I hear that Rihanna song, I want to throw up.
What you miss most about home when abroad
The gym. They don't build them like they do here.

Indispensable travel item
Art of Shaving Pre-Shave Oil
Favorite touring memento
I always travel with my own slipmats for good luck
Obsolete item you can't part with
My dance music CD collection
Best recent gift
Ipod with my name and Hidden Recordings printed on it.

Biggest self-indulgence
I bought an apartment on the upper west side.

Next big purchase
puppy
Favorite fictional character
Jules from Pulp Fiction, Jay + Silent Bob, Snoopy
Personal hero
Mom

Personal theme song
two of my favorite productions of ours: "Blow" and a "Stroll Through Central Park" - both chill, deep with guitar riffs and warmer sounds to make it more uplifting.
Hobbies
Hitting the beach in summers, playing tennis and jogging, eating out in NY

What did you want to be when you were a kid
Growing up Indian, I didnt have much of a choice: either a doctor or an engineer. So I became a DJ

Worst nightmare
checking in my records at the airport - it makes for the longest flight of your life!
One thing you should always do
get a tracking number when you mail out important packages

One thing you should never do
be a snob
New for you in 2009
1. Remixed a Monkey Brothers track with Dieter for Barcelona's Regular Label - it's out now
2. Made the cover of April DJ Times with article inside
3. Writing a blog for Resonant Vibes
5. Continuing to release artists such as Pablo Bolivar and Lineas De Nazca and completing remixes for them with Dieter.
6. Booked to play the rooftop at Ibiza Nightclub in DC for my Hidden Sessions 5 party June 13th
7. Booked to play Forecastle Festival in Louisville KY July 11. Bands that are on the bill include Black Crowes and Widespread Panic.
8. Continuing the Hidden Recordings residency at Bar 13 May 15th with Pablo Bolivar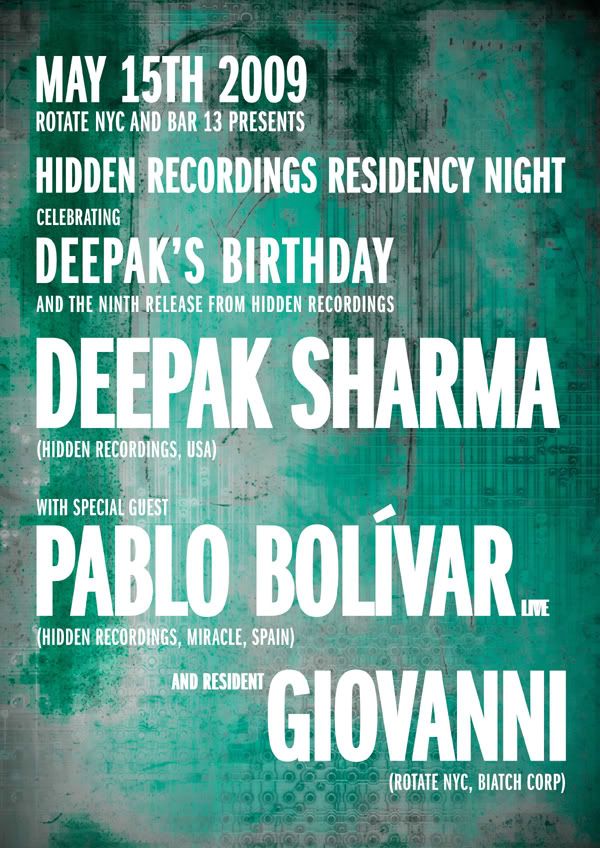 Friday,May 15, 2009
Totate NYC & Bar 13 present
Hidden Recordings Residency Night
Deepak Sharma & Pablo Bolivar
w/ Giovanni
Bar 13
35 E. 13 St.
New York City
10PM-late
21+ with valid i.d
$5 with RSVP to
info@hidden-recordings.com
$10 after midnight
myspace.com/deepaksharma