Q&A with Gareth Emery
Friday, Oct 22nd 2010, 10:46 AM
Gareth Emery
is a name you better get comfortable with. He broke the DJ Mag Top 10 before the age of thirty, has the world's most famous producers and DJs clamoring for his productions and remixes, and has been donned the next big thing by such trance titans as Armin van Buuren and Ferry Corsten. Did I mention that he is just near 30?
Gareth also recently dropped his debut artist album
Northern Lights
, on
Napith Music
, which is a stunning, diversive effort which not only secures his place as one of trance music's top producers, but demonstrates his ability to move beyond the directly definable - entering progressive, house, and more.
And so one of the next generations of trance dons sat down to talk with us at Rhythmism, about his career, from beginnings to present day, his motivations, recent tour experiences (including NYC's Electric Zoo festival), and more. Enjoy, and be sure to catch Gareth at Cielo, on
Thursday, October 28th
.
I wanted to start by asking you a bit about your career before ďNervous BreakdownĒ came out, what was going on back then?
There wasnít really a career! Its kind of a funny one, I finished university back in 2001, I had a job at a web design company, and I had been trying to make dance music since 1998 or 1999. For me it was a three or four year process until I made something that was fit for release. Finally, in 2002, I made some stuff that was worth getting out there and showing to the public, that was ďNervous BreakdownĒ. I did what you did back in those days, pressed up like 500 vinyls, just like cheeky white labels, and sent them to a bunch of DJs. Next I knew Eddie Halliwell was playing it on Radio One.
So how did you learn how to produce?
Music has always been a big thing for me. I did some classical training when I was very young, starting around 4 years old, then I was playing in punk bands, rock bands, that sort of stuff later on. So the musical side of things was always relatively straight forward, the change in focus was learning how to produce things electronically. I basically taught myself that, reading magazines, that sort of thing.
So then after ďNervous BreakdownĒ you hit it again with GTR ďMistralĒ, which, I read somewhere, was produced on a laptop, while you were on vacation?
Yea, it was a bit of a groundbreaking track, because at the time, it was done on a £500 laptop. I was an absolute nobody, and it ended up being one of the anthems of the year. Now days, the way the scene has changed, itís really opened up, for the better. Kids youíve never heard of making tracks on a £500 laptop and it becoming a big record is not unknown, it happens quite often. Back then though, the music industry was a much more closed place, it was all about credentials, and having a massive fuck off studio. Somehow I managed to do it with that track, and hopefully that started to open the doors for more people to do it since then, which I think is awesome.
So this is an interesting thing to talk about, there are some producers who are holding on to those old studio days, and there are some who love this new dynamic, it seems you are in favor of it.
Iím in favor of progress, and Iím in favor of technology. There are definitely advantages from those old days. The quality of music probably was better, the quality of production you received probably was better, because to make music was a serious investment, you couldnít just get an average home computer and software and make some tracks: it took years to learn how to use this very expensive equipment. So there were numerous barriers that stopped people from getting into it. But Iím never going to look back on those days and say things were better then than they are now. Itís a natural change. Times change, the internet changed everything, its nothing you can fight against. If the technology is moving in that direction, then thatís the way the wind is blowing, and its probably going to be inevitable. Thatís the environment now, and youíve got to deal with it.
So how has your production setup grown since the laptop days?
Its still not massively complicated. I use Cubase now, rather than Acid back on the laptop. Im on a PC at the moment, but now that I finished the album Im going to move to a Mac. Most of the stuff I use are VSTs, primarily sample based stuff. Ive also got some hardware, the Virus is a key synth that I use, also an old Studio Electronics SE-1, which is incredibly difficult to operate but sounds absolutely amazing, its made its way into most of my tracks in some way or another. Probably the most important thing for me is having decent monitoring, having a nice room, and getting to grips with how that room sounds.
And as far as remixing versus producing, how do you approach the two differently?
For me the best tracks to remix are the ones where you enjoy the original, you like the individual elements, but it needs something new. Maybe itís a track thatís engineered for the home, and you can take it to the club, something that you can provide a new interpretation of. There were some tracks that I remixed in the past that, to be honest, I struggled to get anything out of (the original version), so I basically wound up writing a whole new track and giving a nod to the original. Thatís not the spirit of remixing for me though. One of my favorite remixes Iíve done was for Oceanlab, of their track ďLonely GirlĒ. Its an amazing track, has a great vocal, but the original was quite downtempo, it was made as an album song. So I took the same chords, and made a huge club version Ė thatís what remixing should be.
So lets talk about the new album. Traditionally youíre a trance artist, but this album has tastes from other genres, can you give us a few specific examples that you feel best express that?
Sure, even when you just look at the temposÖ The first track is a collaboration with Jerome Isma-Ae, its like 128 BPM and itís a pure progressive house track. Up until track 5, in terms of tempo and in terms of content, I think they are more housey than trancey. Thatís not to say that they donít fit into trance sets, lots of DJs have been doing that, but ultimately they fit more into the bracket of progressive house to me. And then as the album goes on it gets tougher, it gets more banging, more uplifting. But it has a range, starting at 128 BPM and going through 138 BPM, which is definitely the faster side of trance. I think it goes on a nice journey.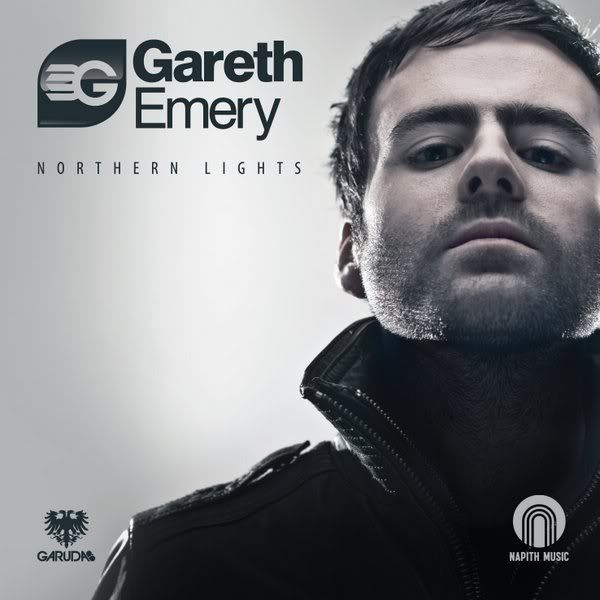 And so if you were describing the album to somebody, what would you say?
Somebody in dance music, or somebody who knew absolutely nothing about it?
Thatís a good questionÖ Somebody in dance music.
Its my classic sound, but thereís a mishmash of stuff on there. Some house, thereís some progressive, thereís some trance, hopefully its all of a relatively high standard, so check it out, let me know what you think.
And somebody who has no idea what dance music is?
Well, Id have to qualify thatÖ Maybe it will be to your tastes, it could be a little bit tough for you (laughs), donít expect an easy listening thing. Youíve got to be careful with people who are outside of the dance genre, but Iíve also found that those people who I have given the album to have generally quite enjoyed it, so Iíve been presently surprised there.
Tell us about some of your inspirations behind the album.
For me its less of whatís around me, its more of a case of whatís coming up. I make the right track for a specific occasion. When I started the track with Jerome I made this massive intro - I was think about playing Global Gathering in the UK. I knew I was the first DJ to play when the boombox came on - this big display they have there - and so I wanted something with an absolutely epic intro.
So generally the inspiration behind tracks is thinking about where I can play that track, and where does that track make sense, thatís easily the sort of thing that governs how Iím going to make a song.
So now tell us a little bit about Garuda, first of all, where did the name come from? A Garuda is a mythical bird from Buddhist and Hindu mythology, is that what inspired it?
Yea, definitely! I had some really good times while I was in Indonesia, and Garuda is very big in their mythology. Itís also the name of their national airline, and it was generally a word that I liked. I wanted to have a name for the label that could easily be related back to me. I used to be involved with 5AM Records, and people thought I was just an artist signed to the label, versus the fact that I actually owned half of it. So when we ended 5AM and moved forward with a new label I just wanted something that sounded good, was catchy, was cool, but also could be associated to me. We looked at all sorts of words that began with G, just sitting in pubs talking about it for literally months, and it wound up that Garuda was a word I really liked. It was a tough process, but like anything, like naming a track, it starts to grow into the name youíve given it, and Garuda is definitely like that. Iím really glad I chose it.
So whatís in the future for Garuda? Youíve had some incredibly successful club nights, are you going to continue with those, expand the roster: what will be the focus?
We will still be doing the club nights. The roster we have been expanding slowly. With Garuda I wanted from the start to be a boutique label. I didnít want to rush into signing a shitload of artists when they werenít going to be right. We donít have a bunch of people doing stuff for us, but I think the stuff that has been done is of an exceptionally high standard. Itís been growing naturally, and its great to be able to grow the label at a very natural pace.
So shifting gears a little bit, what did you think of the Electric Zoo festival this year?
It was absolutely brilliant! This was the one of the first times Iíve really experienced a festival in the US, and I was a bit nervous when I heard my set time, because I was like second or third set of the day, so I thought, shit, are people going to be there? I showed up and it was absolutely solid, the crowd was unbelievable.
Your playing at Cielo soon, which we are all looking forward toÖ What do you think about playing in New York City?
Iíve only actually played in New York (clubs) once before, also at Cielo. I was supposed to play at Pacha but that giant ash cloud basically stopped me in my tracks. Like I said though, Electric Zoo was brilliant, and itís really great to be able to play great clubs and great festivals in the same city, in the same year. And Cielo is a great venue, its not too big, but its gonna be rammed in there. I generally like coming to the states, the crowds are fucking awesome, so Iím looking forward to it.
And your podcastsÖ they have been huge for a while now, how do you sustain that high level of quality? Whats your process behind creating them?
I think its not having a fixed time scale. They happen roughly about every two weeks, but if I havenít got time to do it properly, or if the quality of music isnít there, I donít do it. When you have to do a regular show, every week for instance, it can be tough to keep that level of quality, because your forced to put out two hours of music every single week. If the quality isnít there, you end up repeating some from the past week, or you end up play stuff that isnít that good. And the length of it as well, if thereís only an hour of good new music, then its only an hour long. If thereís two and a half hours of good music, itís two and a half hours long. Thatís also a big part of it. Itís also not restricted to any genres, so itís an absolute mishmash, even more so than my DJ sets. Iíve played bits of dubstep and chillout, drum and bass, as long as its basically electronic, and its good, then I will share it and it goes in there. At the start, people were a littleÖ wellÖ it took them a little bit to get their heads around it. But now, thatís part of the appeal, you will hear things that you wont hear from other dance shows, thatís another big selling point.
One final question, in previous interviews you have said that you get bored easily. Well youíve had a lot of success as a DJ, youíve been steadily climbing through the ranks, producer, record label ownerÖ So whatís next? Whatís the next direction?
Thatís a good question, itís what Iíve been thinking about a lot. Finally getting to the point where the album is done has left me, like, what to do now? Iím going to carry on with Garuda, and working on my concerts, just two weeks ago we did our first concert in Leeds where we added in live guitars, live vocalists, it was really fucking cool, and the next level for me as a show. I would love to take that on the road and do some select ones elsewhere, whether we will do it or not, Iím still not sure. It all depends. To be honest I really donít quite know, Iíve been looking forward to taking a bit of time off towards the end of this year, and take this time where Iím not trying to finish off an album, Iím not facing any crazy deadlines, and just chill out, and figure out where we want to go next with this.
Gareth, itís been a pleasure, thanks for your time.
Cheers mate, talk soon!
Gareth Emery is playing at Cielo on Thursday, October 28th. His debut artist album
Northern Lights
is available now.
Listen to
The Gareth Emery Podcast
[URL="http://www.garethemery.com/podcast/podcast_108/"]here[/URL]!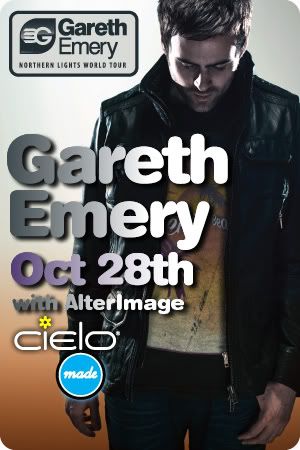 Thursday, October 28th
Made Event presents
Gareth Emery
/Garuda Music, Napith Music/
AlterImage
/AlterImage Recordings/
Cielo
18 Little West 12th Street
New York City
Doors at 10pm
21 and over with valid state issued photo ID
[URL="http://www.ticketweb.com/t3/sale/SaleEventDetail?dispatch=loadSelectionData&eventId=3179375&REFID=madeweb"]$15 advance tickets[/URL]
while supplies last at [URL="http://www.MadeEvent.com"]www.MadeEvent.com[/URL]
Tickets also available at
Rebel Rebel, 319 Bleecker St NYC 212.989.0770
Event Info Line: 917.723.9381
[URL="http://www.garethemery.com"]www.garethemery.com[/URL]
[URL="http://www.facebook.com/garethemery"]facebook.com/garethemery[/URL]
[URL="http://twitter.com/garethemery"]twitter.com/garethemery[/URL]