Monday, Apr 13th 2009, 04:38 PM #1
Portrait: Tom Middleton @ Sullivan Room-April 25th
TOM MIDDLETON
will be making his return to New York – his first DJ set in the Big Apple since 2005 – on
Saturday, April 25th, 2009
. Marking the release of his latest CD compilation: "
One More Tune
." The double CD is something of a "concept" CD – what are some of the best tracks he's played when asked for "one more tune" by clubbers who refuse to see the night end.? Exploring that concept, he's delved deep into his archives to come up with a 15 track mix CD that is loaded with Tom's personal dubs and re-edits, including the legendary Chicago classic "Promised Land" by Joe Smooth and Derrick May's Detroit anthem "Strings of Life."
Tom Middleton can boast one of the most unique perspectives and careers in dance music. Refusing to confine his talent to one style or sound, Middleton has touched on nearly every form of electronic sounds for close to two decades. He first came on the scene through his partnership with Mark Pritchard as Global Communication, which was responsible for not only the seminal ambient album "76:14", but also a handful of classic deep-house anthems, most notably "The Way." From there, Tom's production discography includes the Jedi Knights, Secret Ingredients, Reload, Mod Wheel, Link and Cosmos. He's produced and mixed numerous compilations and mix CDs, and dropped a bucket full of remixes that have all become favorites of discerning DJs and music-lovers alike.
Hear the first 20 minutes of Tom Middleton's One More Tune:
[URL="http://renaissance.com/eflyers/TMOMT/TMOMTpromo/TMOMTpromo.html"]renaissance.com/eflyers/TMOMT/TMOMTpromo/TMOMTpromo.html[/URL]
Tom Middleton - One More Tune is out April 27th on Renaissance
NAME:
Tom 'The Jedi' Middleton
AFFILIATION:
Rebel Alliance
CITY/PLANET:
Mos Eisley/Tatooine
WEBSITES:
[URL="http://www.myspace.com/tommiddleton"]myspace.com/tommiddleton[/URL] , [URL="http://www.reloadonline.com"]reloadonline.com[/URL]
Your NYC event:
Basic NYC 5th Anniversary party at the Sullivan Room on April 25th.
Favorite non-clubbing pastime in New York City:
Difficult to pick between fine dining, shopping and art galleries!
Favorite NYC eateries:
Last time I was over I fell in love with Jean-Georges and Megu.
Obsolete item you can't part with:
Sony MD recorder and Mic for field recordings.
Clothing item you can't live without:
Nike Air Woven's – ultimate in foot comfort
Favorite electronic gadget:
iPod Touch
Best recent gift:
El Bulli 1998-2002 by Ferran Adria
Biggest self-indulgence:
Helicopter flights.
Next big purchase:
Land to build on overlooking the ocean
Who is your favorite DJ?
Gilles Peterson
What you miss most about home when abroad:
The family.
Your traveling routine on the plane:
Virgin Upper Class Sleep Suit, Lip balm, moisturiser, Pocari, Custom fit earplugs.
Indispensable travel item:
Japanese universal micro adapter plug.
Your daily routine:
Yoga/Jog/Shave and Shower, Muesli with Bannana, Red Fruits and Soya yoghurt. Email, pr, creative session. Sushi, salad or soup for lunch, music production til the sunsets. Light evening meal. Club, party, Sleep?..typically work on beats til sunrise!
Favorite touring memento:
Volcanic rock from the Summit of Mount Fuji.
Most cherished record:
Always and Always featuring my late grandfather Tommy Middleton on jazz guitar.
Most unusual item on your rider:
Organic muesli bars.
Worst DJ Booth moment:
The huge master power plug fell out of it's socket, the decks and speakers powered down, but luckily it was in the middle of The Bucketheads 'The Bomb', so the whole crowd carried on singing 'These sounds fall into my mind', whilst I rushed to the front of the booth and plugged the system in.
What's on your iPod playlist:
Vaughn Williams : Fantasia On A Theme By Thomas Tallis (no.1 all time fave)
Chopin, Satie, Debussy, Faure, Grieg, various soundtracks by Thomas Newman, Ennio Morricone, John Barry, Henry Mancini, Eno, Vangelis, Jon Hopkins and Ulrich Schnauss.
Hobbies:
Fusion Cookery, Skydiving, Product Design, Architecture and Interior Design.
Personal hero:
My Dad
Earliest musical memory:
My Dad playing Tomita's Snowflakes Are Dancing album sitting between the speakers in the stereo sweet spot. The music still sounds like it's come from another planet.
What did you want to be when you were a kid:
Pilot
Fictional character you identify with:
Tom Hanks in The Terminal!
One thing you should always do:
Smile with gratitude.
One thing you should never do:
Ignore your instincts.
New for you in 2009:
One More Tune compilation of remixed end of night anthems on Renaissance.
Hypnotizer single on Urbantorque, Kalahari Single on Kostbar recordings.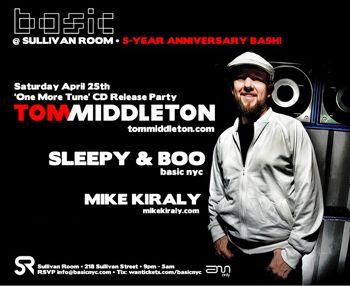 Saturday, April 25
Basic NYC presents
Tom Middleton
'One More Tune" CD Release Party
@ Sullivan Room
Sullivan Room
218 Sullivan st.
New York City
21+ with valid id
[URL="http://www.wantickets.com/affiliates/affiliate_event_detail.asp?id=329&e_id=54352"]$15 Advance Tickets[/URL] at [URL="http://www.wantickets.com"]Wantickets.com[/URL]
9PM-5AM

Tom Middleton Upcoming Dates
APRIL 23 Lava Lounge, Atlanta
APRIL 24 Rise, Boston
APRIL 25 Basic NYC, 5th Anniversary, Sullivan Room
[URL="http://www.tommiddleton.com"]www.tommiddleton.com[/URL]
[URL="http://www.myspace.com/tommiddleton"]www.myspace.com/tommiddleton[/URL]
[URL="http://www.facebook.com/group.php?gid=38509534110"]www.facebook.com/group.php?gid=38509534110[/URL]