Tuesday, Mar 13th 2012, 02:10 PM #1
OUT NOW on Hidden Recordings: Mike Wall 'Out of Fire' EP w/ Xhin and Splatter Remixes
#18 digital and #13 vinyl release from Hidden Recordings. This invite includes important information regarding the release including track descriptions, press links, DJ reactions and links where to purchase.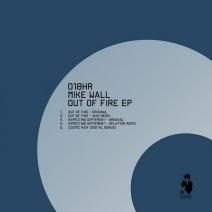 DOWNLOAD HERE:
[url]http://www.beatport.com/release/out-of-fire-ep/872409[/url]
VINYL:
[url]http://www.djshop.de/Vinyl-Mike%2BWall-Out%2BOf%2BFire%2BEP%2B%2528Xhin%2B%2526%2BSplatter%2BRmxs%2529/ex/s~details,u~1749689,p1~vinyl/xe/details.html[/url]
Mike Wall
Out Of Fire EP
Hidden Recordings
018HR (Digital)
013HR (Vinyl)
RELEASE DATE: February 2012
PROMO VIDEO: [url]http://youtu.be/IFGhI5Weia4[/url]
TRACKLISTING:
01 Out of Fire (Original)
02 Out of Fire (Xhin Remix)
03 Expecting Different (Original)
04 Expecting Different (Splatter Remix)
05 Cosmic Kick (Digital Bonus)
DESCRIPTION:
Breaking-through in Berlin is not an easy task and that's exactly what Mike Wall, the latest artist to join the Hidden Recordings family is doing with a remarkable release showcasing the versatility, artistry and pure soul that goes into making music for the big room.
Mike's talent first came to Hidden Recordings with his darker, jacking rendition of [014HR] M.A.D.A. + Plankton's "Antiz". Additionally, his inventive, high octane jams have found themselves on such high profile labels such as Sleaze, On and On and Pluseins.
Additional firepower enlisted for the release comes two men who we deeply admire. The first is somebody who is making us re-think the boundaries of techno, the elusive and mysterious Xhin from Stroboscopic Artefacts and CLR. The second comes from Splatter, with his evil and dark chugging glitched out trade-mark sound that will tear up dance floors and leave you shaking in all the right ways.
The combination of the originals and remixes will also be getting the deluxe vinyl treatment that followers of Hidden Recordings have come to expect – watch for it in February. We are proud and excited to share this one with you as we believe Mike Wall is a diamond in the rough. Use these wisely to get your dance-floor moving and feedback is encouraged and welcome.
TRACK DESCRIPTIONS:
Out of Fire (Original) - Deep and chugging. This commanding tune puts Hidden right back in the forefront of the main room techno sound with some of Wall's finest work to date. Sharp synth stabs add an element of controlled chaos for when you need to own
the dance-floor. The track's steady groove and gritty, acidy elements are what makes it a winner and undoubtedly will find major support this winter.
Out Of Fire (Xhin Remix) - Stroboscopic Artifacts and CLR artist Xhin has risen to the top of the game because of his tempered balance of perfectionist craftsmanship and reckless experimentalism for a sound that is re-shaping modern techno. Here he gets
big and cavernous with an industrial nasty mix of grimy Surgeon-esque dub step and head expanding big room techno. The combination is brilliant and once again pushes Hidden to the forefront of pioneering American techno labels.
Expecting Different (Original) - Wall's second original is geared toward lighting up dance floors, and doesn't wait long to get going with its consistent high-energy groove. A moody and eerie beast that pushes along like pistons pumping in a dark, evil factory. The sense of timing and dynamics are spot on as Wall once again takes lead on how a main floor tune should be constructed.
Expecting Different (Splatter Remix) - Pure evil. Pure genius. It's a combination vibrantly on display by Splatter. No pun intended, but you'll splatter brains all over the dance-floor with this well-timed, tension-filled, glitched-out eerie monster complete with haunting vox snippets. Say your prayers.
Cosmic Kick - On the third original, Wall showcases yet another way to grab the attention of those on the dance-floor. As you can tell by now, he is a master of creating that special groove that is essential in any main floor track. His approach on this one is slightly different and more upbeat, chaotic but with punch and consistent flow, well-timed and subtle changes and shifts that will leave dancers locked in.
DJ REACTIONS:
Tommy Four Seven (Electric Deluxe)
The original and Xhin's mix are dope.
Samuel L. Session
Yes! some true wallshakers here...
Agoria (Infiné)
Gonna play it when I'll play techno set.
DJ Wehbba (Tronic)
Out of Fire is big, but I think Splatter mix will get the most plays out of me.
2562 (a made up sound)
Xhin remix for me...
Pig & Dan (Cocoon)
Wow loved Cosmic Kick, awesome.
DJ Jerome (Outland Records)
Splatter remix for me
Darko Esser (Wolfskuil)
Nice, nice, nice! Out Of Fire and Cosmic Kick straight into the box!
Paul Brtschitsch (Paul Brtschitsch & Mr. Rod/Rootknox)
Cosmic Kick is my favourite in here!
Butch (Bouq.)
Splatter is dope.
DJ Emerson (Micro.fon)
Love the Xhin mix here.
Bodyscrub
This is siiiiick pack....Expecting Different is a bomb!!!
Attemporal (FVF)
Woooow!!!! BOMB!!! whole release is awesome, special mention to both "Out of fire" versions, Congrats!!!
Noah Pred (Thoughtless Music)
Techno FTW! Nice work.
Couch Lock (Mechno)
Huge EP! Full support. Out of Fire original my fav!
Axel Bartsch
Some massive techno tunes here. Cosmic Kick is my fav, Out of Fire is good too.
Audio Injection (Droid)
Hard to pick a fav, really digging all mixes!
Stefano Infusino
Simply amazing! I will play both versions of Out of Fire!
Audiowomb
Will definitely play these tracks a lot!!! Full support on this huge EP! Thanks!!!
Miss Sunshine (Monocline)
Awesome release! All tracks are soo good! My favorite is Cosmic Kick!
Luigi Madonna (Analytic Trail)
Like Out of Fire original!!.. good work.
Alex Tolstey (Boshke Beats Records)
Xhin remix is super, the rest is great too, always like those space techno elements in Mike Wall sound.
Xpansul (Ovum Recordings)
Really down my alley. Thanks a lot!
ADDITIONAL SUPPORT FROM:
Maceo Plex, Ame, Toni Rios, Tony Rohr, Phil Kieran, Raresh, Alan Fitzpatrick, Metope, Rolando, (Ostgut Ton), Agoria, DJ Nori, Tom Bonaty (Prologue)
PRESS LINKS:
XLR8R:
[url]http://www.xlr8r.com/mp3/2012/02/cosmic-kick[/url]
Textura:
[url]http://www.textura.org/reviews/wall_outoffire.htm[/url]
Tony Rohr Includes Splatter Remix on his Elecktronic Force Podcast #62 for Marco Bailey:
[url]http://soundcloud.com/marco-bailey/elektronic-force-podcast-062[/url]
Ibiza Voice:
[url]http://www.ibiza-voice.com/story/news/3775[/url]
Mixside:
[url]http://www.mixside.com/mike-wall-out-of-fire-ep-2012-hidden-recordings/[/url]
Medellinstyle:
[url]http://medellinstyle.com/mike-wall-out-fire-2012-hidden-recordings.htm[/url]
DOWNLOAD HERE:
[url]http://www.beatport.com/release/out-of-fire-ep/872409[/url]
VINYL:
[url]http://www.djshop.de/Vinyl-Mike%2BWall-Out%2BOf%2BFire%2BEP%2B%2528Xhin%2B%2526%2BSplatter%2BRmxs%2529/ex/s~details,u~1749689,p1~vinyl/xe/details.html[/url]
LIKE HIDDEN RECORDINGS ON FACEBOOK:
[url]www.facebook.com/hiddenrecordings[/url]
FOLLOW ON TWITTER:
[url]www.twitter.com/HiddenRec[/url]
HIDDEN RECORDINGS YOUTUBE:
[url]www.youtube.com/hiddenrecordings[/url]