Wednesday, Aug 29th 2007, 05:36 PM #1
The Official UnderWORLD Afterparty: DT & Lee Burridge, Holden & Fairmont - Sept 14th
The official Underworld After-Party will be held at
Webster Hall
with world-class DJs
Danny Tenaglia & Lee Burridge
immediately following the Central Park show on
Friday, September 14th
. This will be the first time in history that these two titans will be DJing together with each DJ bringing his own unique sound to the dancefloor. Come experience the new-and-improved Webster Hall and the unveiling of their new main room sound system, designed and engineered by
Integral Sound
.
New York City's own homegrown legend
Danny Tenaglia
is a DJ of the highest order with in-demand gigs in over 20 countries around the world. For over 10 years, Danny has helmed vastly popular residencies at Roxy, Twilo, Tunnel and Vinyl/Arc in NYC and now frequent dates at Pacha New York. His seemingly inhuman mixing capabilities, booth-to-floor telepathy with the dancers, and grittiest modern yet classic grooves have all captivated generations of clubbers.
UK's top tech-houser
Lee Burridge
is a maestro of the eclectic, with his own self-described sound as
"wonky, wobbly, bassline-driven, trippy, melodic, nasty, gentle, deep, spacious, rocking and above all … 100% cool!!"
From his legendary Tyrant nights at London nightclub Fabric to his '365' residencies worldwide - Lee constantly seeks to build a greater relationship between himself and the clubbing faithful in underground dance music meccas around the globe. His own label 'Almost Anonymous' is steadily releasing the fruits of the '365' project - including collaborations with Andy Page and Steve Porter, and several more due out in late 2007. Now Lee is poised to showcase his sublimely varied mixture of vibes on a new triple disc mix for the world's premier compilation series,
'Balance 012'
on EQ Recordings this October 2007 along with a 25-city North American tour.
James Holden's Border Community
label continues to eschew boundaries of electronic music by tapping into the distinctive sounds of today's cutting edge producers like Canadian
Jake Fairley
. His alter ego
Fairmount's
long-player
'Coloured In Memory
' is filled with melodic techno, electronic pop gems and the more introverted, deviant tracks with sound morphing and stretching through time and space. Fairmount's all-hardware live shows have earned him international acclaim as he strives to create the perfect hybrid of techno and rock n' roll with originality, rockin' fat basslines, distorted techno and brooding soundscapes into an astounding range of influences while retaining a very distinct style of forward thinking electronic music.
Integral Sound
will employ the latest in cutting edge audio technology in NYC's long-standing Webster Hall nightclub. Integral's systems are renowned world-wide for their purity, precision and high performance. Developed by veterans of the sound and nightclub industries, Integral Sound is the system of choice for the world's top nightclubs Cocoonclub (Frankfurt), Ministry of Sound (Singapore), Shine (Miami) and the Pink Elephant (NYC).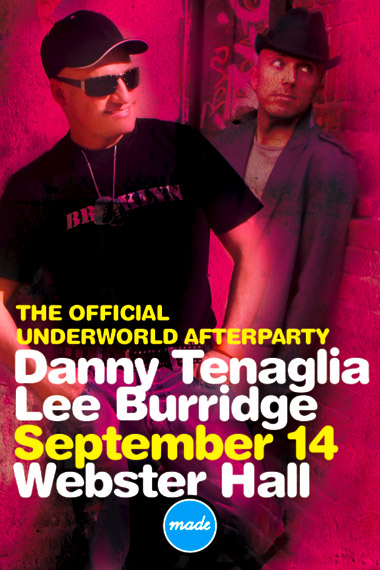 Friday, September 14th
Made Event & Be Yourself present
THE OFFICIAL UNDERWORLD AFTERPARTY
DANNY TENAGLIA & LEE BURRIDGE

In the Coffee Shop: The Border Community Room
JAMES HOLDEN
FAIRMONT - Live (JAKE FAIRLEY)

Webster Hall*
12 East 11th Street, NYC 212.353.1600
www.websterhall.com
Doors at 11PM, 19 and over with Valid ID
Event Info Line: 917.723.9381
$35 Advance Tickets
at
www.made-event.com
$70 Underworld at Central Park Plus Afterparty
package at
www.made-event.com
*Launching the brand new Integral Sound system

www.integralsound.net
www.dannytenaglia.com
www.leeburridge.com
www.myspace.com/leeburridge
www.div-one.com
www.vitaltalent.com
www.jamesholden.org
www.bordercommumnity.com
Made Event NYC Upcoming Events
September 7 Gabriel & Dresden @ Pacha
September 8 M.A.N.D.Y Patrick with Adultnapper @ Club Shelter
September 14 Underworld & James Holden @ Central Park
September 14 Danny Tenaglia & Lee Burridge @ Webster Hall
September 21 RANK 1 & Markus Schulz @ Pacha New York
September 21 The Chemical Brothers @ Hammerstein Ballroom
September 22 The Chemical Brothers with Ladytron @ McCarren Park Pool
September 28 Misstress Barbara @ Cielo
September 28 Kaskade @ Shelter
October 5 Ferry Corsten @ Pacha New York
October 26 Paul van Dyk @ Roseland
About Made Event
The Made Event team, headed by Mike Bindra and Laura De Palma, is committed to excellence in the programming, promotion, and production of electronic dance music events. They continually bring a world-renowned caliber of entertainment into a variety of distinctive and innovative venues, and seek to push the limit of expertise in their field. With over 20 years of combined experience, and over 250 successful events produced in New York City and at Winter Music Conference, Made Event is an industry leader.
www.made-event.com