Friday, Aug 29th 2008, 03:05 PM #1
Made Event presents Misstress Barbara @ Cielo - September 5th
Made Event
presents the leading lady of techno
Misstress Barbara
at dance music boîte Cielo on
Friday, September 5th, 2008
.
Over Misstress Barbara's 12-year career as a DJ/ Producer she has been notorious for her consistently "harder" sound, but now her music has evolved stylistically from a self-described "funky pumpin' techno" vibe to one which she feels is a more "smooth, tech-house and minimal" sound. The flavor of Misstress Barbara's craft, however, is in perpetual motion as she continually pushes her own artistic boundaries in search of the next unique sound.
Throughout 2007 and into 2008, continuing with her evolution as an artist; Misstress Barbara began work on her first artist album. Sparked by the tragic passing of a close family member, the sudden influx of emotions began to take the shape of lyrics and became the basis for the now titled album
"I'm No Human"
due out in late 2008. The album is a unique creature, living in the electronic music world, but taking a much more lyric and song driven structure, drawing from her wide spectrum of tastes, creating a musical synthesis…a true artist project. Although an introspective album Misstress Barbara chose to collaborate on certain songs such as; 'is it ok', co-produced with Bjorn Yttling from the group Peter, Bjorn and John. Barbara also worked with Braz Girls, one of the groups that have been a major influence on her throughout the past years, as well as a duet with Canadian singer/ songwritter Sam Roberts.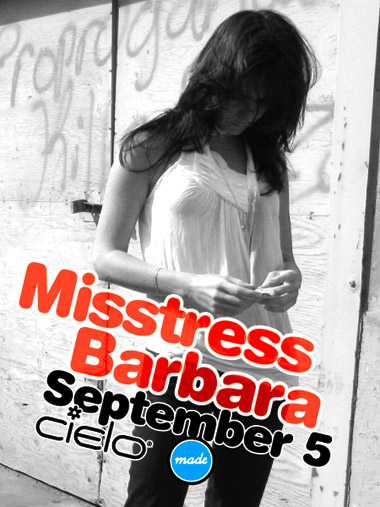 Friday, September 5th
Made Event presents

MISSTRESS BARBARA
Cielo
18 Little West 12th Street
New York City
Doors at 10pm, 21+ Valid ID
$15 Advance Tickets
at
www.ticketweb.com
Event Info 917.723.9381
www.made-event.com
www.myspace.com/misstressbarbara
www.iturnem.com
www.cieloclub.com
Made Event Upcoming Dates
August 29 Dave Dresden @ Cielo
August 31 SSFD: Overboard Boat Party with Steve Bug & Adultnapper
August 31 SSFD: Dan Berkson & James What (Live), Kate Simko (Live), Mr. C, Martin Landsky, Three, Taimur Agha + Crazy Larry @ Rebel
September 1 SSFD: Brandon Moeller, Cassy, Joel Mull, Nikola Baytala, Zip + Special Guests @ The Yard
September 4 Ete D'Amour: Kitsune Maison Party featuring Fisherspooner DJ Set w/Jon Kane, Guns N Bombs, Gildas & Masaya @ Santos Party House
September 5 Misstress Barbara @ Cielo
September 11 Ete D'Amour: Ame (DJ set) + Boombass (From Cassius) @ SPH
September 18 Ete D'Amour: Ed Banger Night featuring Busy P & DJ Mendi @ SPH
September 25 Ete D'Amour: Michael Mayer & Superpitcher (Kompakt) @ SPH
September 26 The Glimmers @ Cielo
October 3 Nick Warren @ Cielo
October 10 Ferry Corsten @ Pacha
October 31 Armin van Buuren : Halloween @ Roseland Ballroom
November 7 Sasha @ Webster Hall
About Made Event
The Made Event team, headed by Mike Bindra and Laura De Palma, is committed to excellence in the programming, promotion, and production of electronic dance music events. They continually bring a world-renowned caliber of entertainment into a variety of distinctive and innovative venues, and seek to push the limit of expertise in their field. With over 20 years of combined experience, and over 300 successful events produced in New York City and at Winter Music Conference, Made Event is an industry leader. For more info, please go to
www.made-event.com
.