Thursday, Nov 6th 2008, 11:16 AM #1
Made Event presents PACO OSUNA with Adultnapper @ Cielo - November 14th
Made Event
proudly presents highly acclaimed Spanish minimal techno DJ/Producer
Paco Osuna
with
Adultnapper
at
Cielo
on
Friday, November 14th , 2008.
Paco Osuna's
driving and pulsating brand of techno fuses tribal percussive beats along side the more clinical surgical sounds associated with the Minus label and the likes of Richie Hawtin and Gaiser. Being at home with both house and techno, as well as in the fusion between them, Osuna views his sets as an "in-crescendo"-journey causing variations of tension that drive the dancefloor crazy. The combination between this factor and his unquestionable technical skills make Paco is one of the leading, emerging forces in the scene.
Paco began his claim to fame in 1999 with a residency at the Amnesia in Ibiza, where he was greatly influenced by Sven Väth, both personally and professionally. Osuna's interest for the harder sounds such as techno grew, but he never left behind his passion for house music. Soon after, Paco signed to the Serial Killer label where he released "I Can Feel My Blood Pumpin'" and "Me Vuelve Loca" on the Serial Killer EPs "Groove Grill" and "Beat Hacker". More recently he has put out releases with Plus 8 Records including the tracks "Crazy" and "Orbeat".
Joining Osuna for this epic techno filled night is none other than the dark and complex techno DJ/Producer Francis Harris, better known as Adultnapper. His unique sound has lead to his prolific career with productions appearing on Audiomatique, Nummer, Mule, Dirt Crew, and Superfreq. Harris's exceptional technical skills generate complex arrangements that encompass highly creative and well designed baselines and micro-rhythms. In 2007, Harris launched Ransom Note, a concept label which, through music, text and imagery, will tell the story of the Adultnapper character, an anti-hero who is part creative genius gone awry, part tortured dystopic philosopher, part paranoid vigilante outlaw… and part Harris himself. Adultnapper's enigmatic Ransom Note series continues with it's third episode. This time the plot thickens as the narrative's shadowy author fades to the background, setting the stage for the prophetic return of Alexi Delano in the form of ADNY, with two revelatory new tracks. The Forms EP also sees the introduction of the story's first heroine, NYC's own Berlin transplant Camea, who rises to the challenge of remixing "Under My Skin." Out now on collectible 12" vinyl with color picture sleeve featuring drawings by John Stroud and text by Adultnapper.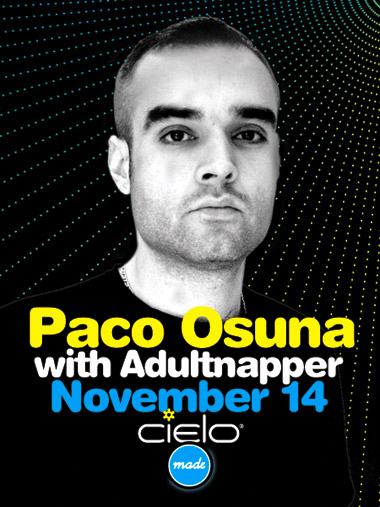 Friday, November 14th, 2008
Made Event presents

PACO OSUNA

with

Adultnapper
Cielo
18 Little West 12th Street
New York City
Doors at 10pm, 21+ Valid ID
$15 Advance Tickets
while supplies last at
www.ticketweb.com
Tickets also available at Rebel Rebel, 319 Bleecker St NYC 212.989.0770
Event Info 917.723.9381
www.made-event.com
www.myspace.com/pacoosuna
www.adultnapper.com
www.cieloclub.com
Made Event NYC Upcoming Events
November 7 Sasha : Invol2ver with Ulrich Schnauss @ Webster Hall
November 14 Paco Osuna @ Cielo
November 20 Josh Gabriel @ Cielo
December 5 Paul Van Dyk @ Roseland Ballroom
December 12 Pig & Dan @ Cielo
About Made Event
The Made Event team, headed by Mike Bindra and Laura De Palma, is committed to excellence in the programming, promotion, and production of electronic dance music events. They continually bring a world-renowned caliber of entertainment into a variety of distinctive and innovative venues, and seek to push the limit of expertise in their field. With over 20 years of combined experience, and over 300 successful events produced in New York City and at Winter Music Conference, Made Event is an industry leader. For more info, please go to
www.made-event.com
.
DANCE LOCAL THINK GLOBAL™