Thursday, Apr 29th 2010, 11:03 AM #1
Q&A w/ Stacey Pullen @ Basic NYC - May 15 + Movement 2010
Stacey Pullen
is the Kosmik Messenger. An innovator from the Second Wave of Detroit techno, he grew up under the mentorship of Detroit's legendary three: Derrick May, Juan Atkins and Kevin Saunderson. Still continuing to produce his characteristic atmosphere laden electronic sound, Stacey Pullen compounds his reputation as a producer with that of being one of the world's most in demand DJs, playing weekly across the globe year in, year out. With a font of passion for music and performance that never dries up, Stacey Pullen still plays every gig from the heart seeking to surprise and engage, to provide an unforgettable experience, to offer up his unique catalogue without predictability - defying expectation. Above all, from his earliest attempts to the current day Stacey Pullen has stayed true to his one goal: to become and to always be an Innovator. On
Saturday, May 15, 2010
Stacey Pullen returns to New York City as
Basic NYC
bring this innovator back to
Sullivan Room
for a very special evening. Then, over Memorial Day Weekend,
May 29-31, 2010
, Stacey will return to his hometown as part of
Movement 2010
in Detroit's
Hart Plaza
.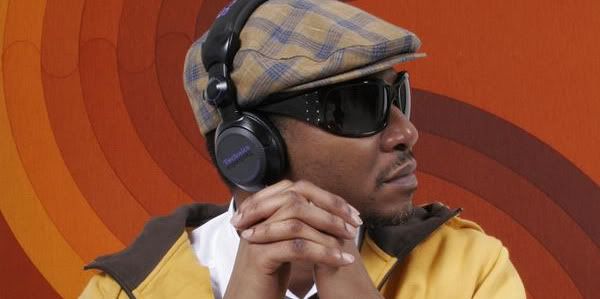 First off, how has your 2010 been going so far - are there any highlights from the first half of the year?
Things so for have been steady, I took the 1st 2 months off to record, now I'm back touring. Then D25 gig in Miami was the highlight so far because of the importance of the D25 celebrating 25yrs of Detroit techno.
You are coming to New York in May and playing Sullivan Room for Basic NYC. Have you played the venue before? If so, what is it about the venue that you feel mixes well with your style?
Yes I've played the venue before and I love it because it's an underground feel to it, well, it actually is underground no pun intended.
Tell us about a favorite NYC experience (clubbing or non-clubbing)
Clubbing, it was a couple of years ago, same venue same promoters as well, I brought about 10 friends from Detroit to New York to party and I got on the mike and told all the New Yorkers to show my Detroit peeps some love. End result was a rocking party. Non clubbing, well, let's say every time I go to NYC is special because it's totally the opposite from Detroit.
Shortly after your New York date, you will be playing the Movement festival in Detroit. Having been such an integral part of Detroit techno – what are your feelings about this festival now celebrating its 10th year?
It's hard to believe it's been 10yrs, it's also 25yrs of Detroit techno and Metroplex records 25th year as well so this is a monumental accomplishment of our music.
Do you have a favorite memory from the festival?
My favorite memory is when I closed the main stage on the 1st day of the fest and played a track that had the MLK speech "I Have A Dream" and it was surreal. No one knew how the fest was going to be because it was the 1st year and to play that song was huge. It was emotional.
What track would be your ultimate Detroit tribute song?
From a social standpoint I would say Marvin Gaye's track "What's Going On" because of the social message. From electronic viewpoint it would be "The Chase" by Model 500
What is a don't miss Detroit experience for us visitors?
You have to go to Southern Fires soul food restaurant
After all these years, you still live in Detroit. What has kept you there?
My family is here, but also one of the main reasons is the fact that I can travel at my leisure and leave whenever I want, if I get tired, I can get out and come back full of energy. If I did not travel at all then I would have left Detroit a long time ago.
Being recognized as one of the innovators of the second wave of techno artists, where do you think the Detroit sound fits into the world at large today?
Being from Detroit we never really thought about where we fit in because we have always been innovative in our approach to what we do. With so many genres, the world at large today still takes notice of the Detroit sound because of our story. the Detroit sound was never planned it just happened.
Do you have anything special planned for your set at Movement?
Not really, I just wanna do my thing and do it well enough to be one of the sets at movement that's remembered .
What do you think is going to be the "next wave" of techno?
The next wave if techno is already happening as we speak, and tomorrow will be the future of techno.
What are your plans for after Movement and the rest of 2010?
Besides touring, I have 2 new singles that are ready to drop, loads of remixing, re releasing my Blackflag imprint as well as new tracks from a couple of artist.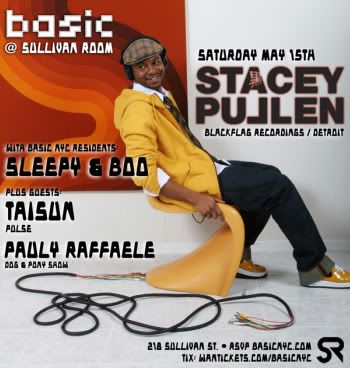 Saturday, May 15, 2010
Basic NYC presents

Stacey Pullen

With basic NYC residents:
Sleepy & Boo
And guests:
Taisun and Pauly Rafaelle
Sullivan Room
218 Sullivan St.
New York City
9pm-5am, 21+
$20 in advance
www.staceypullen.com
www.basicnyc.com
www.sullivanroom.com

Saturday-Monday, May 29-31, 2010
Paxahau presents

MOVEMENT 2010
A-Trak, Acid Didj, Agoria, Anthony "Shake" Shakir, Booka Shade
- Live
Cassy, Chris Liebing, Claude VonStroke, Dan Bain, Derrick Carter, Derrick May, DJ Dick, DJ Godfather, DJ Hype, DJ Koze, DJ Pierre, DJ Sneak, Francesco Tristano
– Live,
Hudson Mohawke, Ida Engberg, Inner City, ItaloBoyz, Jamie Jones, Jennifer Xerri, Joel Mull, John Acquaviva, John Johr, Josh Wink, K-HAND, Kenny Larkin
– Live,
Kid Sister
– Live,
Kraak & Smaak, Kyle Hall, Larry Heard, Luke Hess
– Live,
Magda, Marco Carola, Mark Ernestus
(Rhythm & Sound),
Martin Buttrich
– Live,
Martinez Bros, Martyn, Matthew Hawtin, Mauro Picotto, Michael Mayer, Minx, Model 500, Mr. Scruff, Onur Ozer, Paco Osuna, Phat Kat & Guilty Simpson w/ Will Sessions
– Live,
Pretty Lights
- Live,
Punisher, Radio Slave, Recloose, Rex Sepulveda, Richie Hawtin presents Plastikman
Live,
Ricardo Villalobos
,
Rick Wilhite, Rob Hood
- Live,
Rolando, Ryan Crosson, Scion
- Live,
Secrets
- Live,
Simian Mobile Disco, Stacey Pullen, Starski&Clutch, Theo Parish, Woody Mcbride
Hart Plaza
Detroit, MI
12-12, all ages
$55 in advance
while supplies last
www.paxahau.com