Wednesday, May 5th 2010, 12:30 PM #1
Q&A with Italoboyz | Movement 2010
Since arriving in London at the beginning of the new millennium,
Italoboyz
have become an essential fixture of the capital's passionate house,techno,and minimal scene. From their notorious back-to-back DJ sets their reputation has grown to the point where they can now be found playing regularly across the planet. However, it's not just the energy and flair of their DJ sets that has captured the imagination, Italoboyz release material on some of today's most influential labels like
Mothership
(including their debut LP
Bla Bla Bla
) and
Get Physical
. Their sound has always been rooted in the organic elements of funk and jazz combined with the large doses of energy one receives from traditional house and techno. The duo's musical expression is a fusion of sounds, themes and ideas resulting from over 15 years of musical research, DJing experience, and ever evolving sounds. Italoboyz aim to deliver the most modern, cutting edge music possible but it should still resonate through time, both past and future, in order to make the immediate experience all the better. The duo will be playing the
Beatport
stage at the
Movement 2010
festival in Detroit's
Hart Plaza
over Memerial Day Weekend,
May 29-31, 2010
.
First off, how has your 2010 been going so far - are there any highlights from the first half of the year?
Hiya! So far the Igloo fest in Montreal, an Asian tour in March and the Miami WMC have been a great warm up for a hot summer approaching... ;-)
With a name like Italoboyz I'm sure that most people think you may play some sort of Italian influenced house music. In fact you guys are now residing in London and are known for your techno sounds, how did the name come about?
Yes, you got it, especially at the beginning a lot of people was associating our name with italo disco! Which is not exactly our thing...we've been given this name from a promoter who booked us here for our first London club gig, it was 2003 and at the time we just started playing together and we were actually thinking of a name...so we decided that that name was sooo terrible, that it was quite cool!
How did you guys meet and decide to start the collaboration?
We know each other since more than 20 years since we are from the same small town in Italy, how we started this Italoboyz thing together is a long journey which started by going clubbing together, buying records together, playing music at home together...and then after moving to London at 2 different stages, after an epic party where we played back to back for the whole night. We didn't say "we r gonna now start doing this and that", we just did it!
What prompted your original move from your native Italy over to London? Was the decision entirely music based?
We moved to London separately and with a couple of year discrepancy, but without going too much into long stories, we can say that definitely the will of trying to make it happen in the music scene was the main reason, yes!
This if your first time at the Movement festival in Detroit - what are your impressions of Detroit and the festival?
This is the highest in our career, together with last year's Loveparade. It is something we have always dreamed...going to Detroit fest and playing out techno music? Oh Gosh...still amazed and soo happy about it!
What track would be your Detroit tribute song?
We will play a lot of our new music which we have been working on recently, and if I have to say one, yes there is one actually, it will be on promo during the festival as it will be released in July on Trapez ltd, it's called 9/96, it's very techno and....it rocks!
How do you two break down a DJ set amongst yourselves? Is it track for track or 3 tracks and switch…?
It depends, we normally do 1 each, you get more into the vibe by playing 1 each...
Have you been working on any new material for the festival? Do you have anything special planned for your set at Movement?
As I said, yes, a few new things that are almost ready so we will play in Detroit big time! It's gonna be amazing!
We recently caught your set at he Get Physical Beach party at WMC. What would you say was the best record of conference this year?
Ummm...I wouldn't say 1 in particular, we had amazing time by going to great parties with magnificent people and heard very nice music, this for sure!
What do you have coming up in 2010?
Music. Quite technoy!

Saturday-Monday, May 29-31, 2010
Paxahau presents

MOVEMENT 2010
A-Trak, Acid Didj, Agoria, Anthony "Shake" Shakir, Barem, Booka Shade
- Live,
Cassy, Chris Liebing, Claude VonStroke, Dan Bain, Derrick Carter, Derrick May, DJ Dick, DJ Godfather, DJ Hype, DJ Koze, DJ Pierre, DJ Sneak, DJ Torpez, dOP
- Live,
DZ feat. Toothfaced
,
Excision
,
Francesco Tristano
– Live,
Gabe Real & Ian Desmond
– Live,
Ghostland Observatory
– Live,
Greg Gow
,
Hudson Mohawke, Ida Engberg, Inner City, Inxec, I-Robots, ItaloBoyz, Jamie Jones, Jeff Risk, Jennifer Xerri, Jenny Lafemme, Jimmy Edgar, John Ryan and Ian Clark
– Live,
Joel Mull, John Acquaviva, John Johr, Josh Wink, K-HAND, Kenny Larkin
– Live,
Kenneth Thomas
,
Kid Sister
– Live,
Kirk Digiorgio
,
Kraak & Smaak, Kyle Hall, Larry Heard, Luke Hess
– Live,
Magda, Marco Carola, Mark Ernestus
(Rhythm & Sound),
Martin Buttrich
– Live,
Martinez Bros, Martyn, Matthew Hawtin, Mauro Picotto, Michael Mayer, Minx, Model 500, Monty Luke, Mortiz Von Oswald Trio
– Live,
Motel Connection
- Live,
Mr. Scruff, Niko Mark
s – Live,
Onur Ozer, Orlando Voorn
- Live,
Paco Osuna, Patrice Scott, Phat Kat & Guilty Simpson w/ Will Sessions
– Live,
Pretty Lights
- Live,
Psycatron
,
Punisher, Radio Slave, Recloose, Rex Sepulveda, Ricardo Villalobos, Richie Hawtin presents Plastikman
Live,
Rick Wilhite, Rob Hood
- Live,
Rolando, Ryan Crosson, Scion
- Live,
Sean Deason
,
Secrets
- Live,
Shawn Michaels
,
Shigeto
,
Simian Mobile Disco, Sinistarr w/ MC Teddy Bombscare, Stacey Pullen, Starski&Clutch, Stylophonic, Theo Parish, Woody Mcbride, Yos
Hart Plaza
Detroit, MI
12-12, all ages
[URL="http://www.paxahau.com/movement"]$55 in advance[/URL] while supplies last
[URL="http://www.movement.us"]www.movement.us[/URL]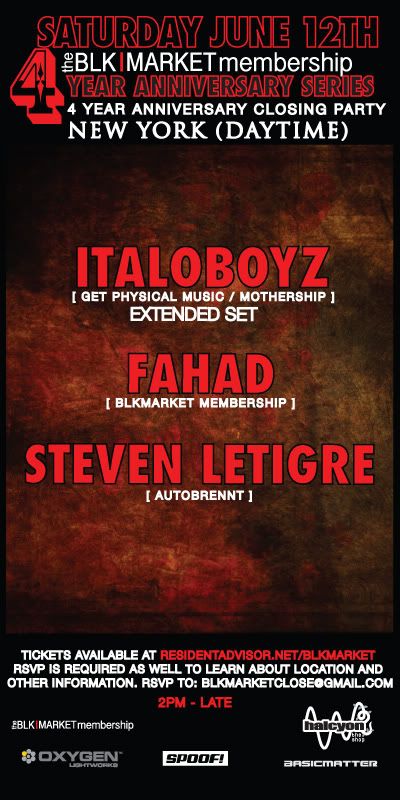 Saturday, June 12, 2010
BLKMARKET MEMBERSHIP presents

4 YEAR ANNIVERSARY CLOSING PARTY

Italoboyz - EXTENDED SET
Fahad
Steve Letigre
[EMAIL="BLKMARKETCLOSE@GMAIL.COM"]RSVP[/EMAIL] for Info & Location
[URL="http://www.residentadvisor.net/event.aspx?159666"]$15 in advance[/URL]