Friday, Nov 5th 2010, 11:27 AM #1
Q&A with Layo & Bushwacka! - Saturday, November 20th @ Sullivan Room
Few duos are more firmly associated with underground music than the partnership of
Layo Paskin
and
Matthew Benjamin
, the DJs, producers and artists known as
Layo & Bushwacka!
For over a decade, the pair have scored the soundtracks to late nights on dancefloors around the world, with their uncompromising, genre-spanning sounds and styles earning legions of fans and the respect of their industry peers. From their residency at London's The End (which shuttered in 2009), to their exclusive output on their own
Olmeto
label, to their past artist albums, Layo and Bushwacka! have always been synonymous with inventive, edgy club music, fusing the rhythms of house with techno's dark shadows.
New York hasn't had much of a chance to hear Layo and Bushwacka! in recent years, but that changes on
Saturday, November 20th
. The duo will be returning to the city to be a part of
Basic NYC
's two-venue event at the
Sullivan Room
and the
Sullivan Hall
. Layo and Bushwacka! will be manning the decks at the Sullivan Room for an extended set of their trademark twisted grooves, while Carl Craig performs live with Amp Fiddler upstairs. We caught up with Layo to find out what the pair have been focusing on since they last brought their beats to the Big Apple.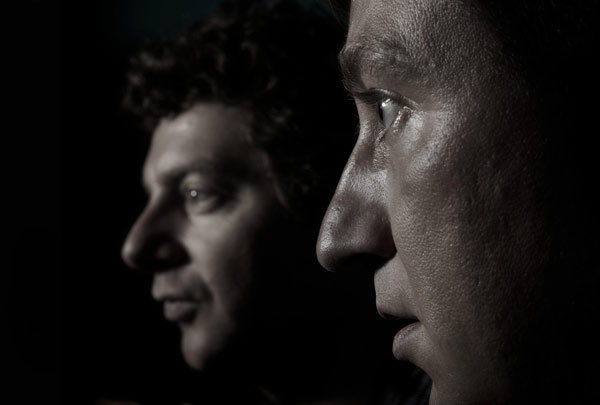 It's been a few years since your last visit to New York, but what are the big headlines going on in with Layo & Bushwacka! these days?
Well since The End closed in 2009, we have been running our own Shake It warehouse parties in London, we have spent the last five months recording, perhaps our most intensive period in four years, and of course DJing and moving on with our lives...I got married! And although we haven't played in New York, I have been going every year as I love the place.
How was your summer and what were some of the highlights for you guys? We ran into you in Ibiza – did you have some memorable sets on the White Isle?
Our best set was for Carl Cox at Space, which was a fantastic night, we also enjoyed We Love, Warung and Wonderland... but we had some great moments around Europe. We played in a bombed out hotel in Croatia; a huge open air valley in Italy with Tiga; The Big Chill; Shake It in a film studio, it was a good summer and very busy, especially as we spent the days not playing just in the studio, it felt pretty intense but very creative/productive.
These days, Shake It! seems to be your main place to play in London. Tell us about the party and how it works, and what are some of the the things you guys have planned for Shake It! in the future? What's been your most memorable night yet?
We move venues most of the time, bi-monthly, it can be from about 700 people to 2000. It's a very stripped back style, an old warehouse, a fantastic sound system, me and Matt, a great crowd, cold drinks...most memorable? Hmmmm, not sure, we have had two great guests this year – Carl Cox and Richie Hawtin - and have enjoyed just playing all night. They are all really good in different ways.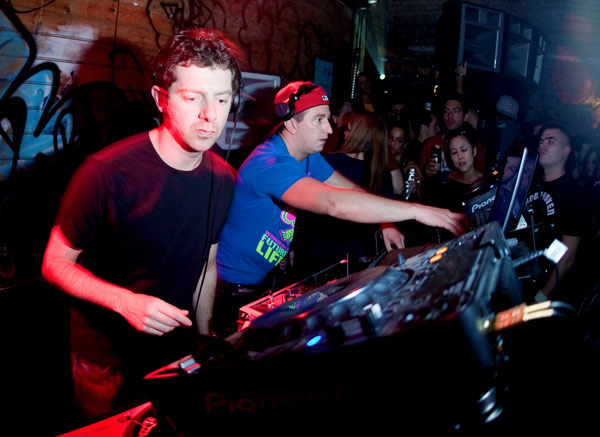 It's been a few years since The End closed its doors. How has the London club scene changed since then? What's your favorite venues in London right now?
None. That's why we do the warehouse parties. The End was the best club in London.
It's been a few months since your last Olmeto release – what's coming up for the label, and what does it take for a track to get signed to Olmeto?
Well the music on Olmeto is just by me and Matt, so that's the first hurdle to get on there! We only invite people to remix, we didn't want to run a label like a business, we wanted it to be a creative outlet...there has been no music as we stepped back to work in a different way...we have made lots of new music, the first is a new EP for Plus 8 called "Endangered" which comes out in November, and also a new EP on Olmeto in January and then there will be a whole host of music in 2011. We decided we wanted to also release on a label other than our own to set a new benchmark for us and Richie's was the obvious choice.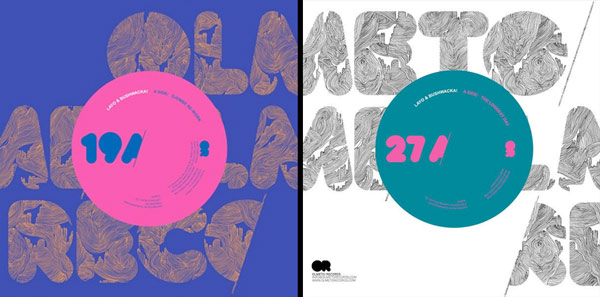 We know a lot of your fans love your older artist albums. Any plans for another Layo & Bushwacka! Album in the works? Got any collaborations coming up?
No collaborations at the moment but who knows? No album either, just singles for now, but you never know, we love writing albums and are in the studio a lot so anything can happen.
Your sound has really evolved over the years but somehow remains distinctively "Layo & Bushwacka!" Talk about the kind of tracks you guys choose to play as DJs, and what kind of sounds you are feeling these days?
We laugh that even if we try to sound different, we still sound like us! These days involves a lot of time spent listening to lots of music to find the right sounds, not because there isn't much but because there is so much! We like so many labels and producers... I love Marc Houle, Nicolas Jaar, Guy Gerber, Cadenza, Guillaume and the Coutu Dumonts to name a few, but there are so many. I love house and techno and all the edgey forms that they come in..as well as many other styles of music that are of course not for clubs.
You guys have been one of the most important – and longest lasting – DJ and production duos in the underground. Talk about how you guys work together and how you guys have managed to keep your partnership going for so long. Is there a difference between how you approach your studio work and your DJ sets?
Well the studio and the DJing are very, very different. We never rehearse DJ sets or program anything. It is very much dependent on what we are feeling from the crowd, the club, the night. We are often changing the way we swap around in the DJ sets too. We need to do this to keep it exciting for ourselves. In the studio, I do the engineering and technical stuff and programming, and Layo does a lot of the sample sourcing, production ideas, and arrangement structure suggestions. We have worked together for a long time so we know each other very well.
From boat parties to Centro-Fly, you guys have a long history of playing some great sets in New York. What's been your favorite New York set, and what are you looking forward to about coming back on November 20th?
I think the Boat parties were particularly special. My personal favorite was on summer on my birthday when Layo and I flew straight from playing at The End in London to NYC to do the boat - it was amazing! We are looking forward to seeing our friends on Nov 20th, and to partying NY style.
Finally, do you have a current top 10?
1. Layo & Bushwacka! "Black Jack Rabbit" (Plus 8)
2. H.O.S.H "Cash The Chord" (Diynamic)
3. Deadbeat "Vampire" (Echochord)
4. Dj Koze "Sbooty" (Cocoon)
5. Mathias Kaden "Circle Pit 2010" (Vakan)
6. Masomenos "La Porte Sonne" (Welcome to Masomenos)
7. Marc Houle "Inside" (M_Nus)
8. Superpitcher "Black Magic" (Kompakt)
9. Barnt "Collection" (Magazine)
10. Olene Kadar "Sot:2" (Mo's Ferry)
Layo & Bushwacka! will be performing at the Sullivan Room on Saturday, November 20th.
The two also have a new mix you can check out, available in a free download from
bigshotmag.com
.
Saturday, November 20th
Basic NYC + KGB present
Upstairs @ Sullivan Hall
Carl Craig
/Planet E, Detroit/
w/
Amp Fiddler
on live keyboards
plus guests
Illich Mujica
Mike Murphy
Paul Nahm
Downstairs @ Sullivan Room
Layo & Bushwacka!
/Olmeto Records/
with Basic NYC residents
Sleepy & Boo
and guests
Gennaro LeFosse
Prawns & Bajaj
Hosted by
Rob Rewind
Sullivan Room + Sullivan Hall
218 Sullivan St.
RSVP@BasicNYC.com
for guest list.
$25 presale tickets
available at
wanttickets.com/basicnyc
.
www.basicnyc.com
www.facebook.com/basicnyc
www.myspace.com/olmetorecords
www.shakeitlondon.com/olmeto